The Gym
We have been running a gym at the Lodge since 2001 and our membership has been steady at around 100. This means that you don't have any waiting around for machines and if you pick your time, you can be alone with your thoughts. There aren't many gyms where you can watch the trees change colour over the year, hear deer roar and see squirrels romping around the forest. Simply the drive up the hill to the sports hall will gradually soothe you into exercise mode, not stress mode.
There is only one mirror in the gym-it's for checking your posture whilst you are lifting free weights. It was a conscious decision not to have any mirrors-it's not that sort of a place. There is also very little lycra. We have a security lock on the entrance door, which stops unwanted visitors and large changing rooms with showering facilities.
There are two treadmills-one with an incline feature, two bikes, a rower (Concept II), a stepper (great for bottoms) and an elliptical trainer to work your cardio-vascular fitness and a wide range of weight machines to cover all of the major muscle groups. In addition we have a small range of free weights, exercise balls, medicine ball, skipping ropes and a large stretching and abdominal/back area.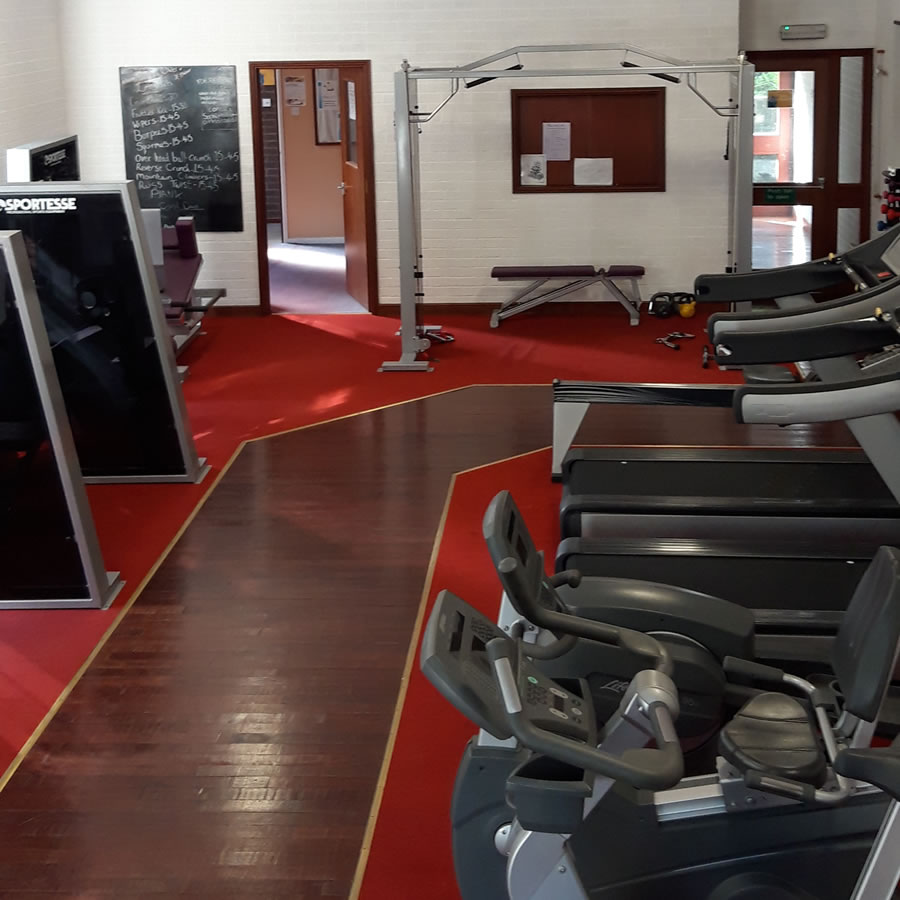 Opening Hours
The gym is open from 7am to 9pm every day (except over the Christmas period). Generally slightly earlier opening (from 8 am) on Tuesdays and Thursdays.
The security is tight with access by door code only.
Parking beside the gym or in the pool car park. Bikes should be parked around the corner from the entrance.
Membership
There is a one-off joining fee of £50.00. Should you be able to join at the same time as your partner or friend, this is divided between you (£25.00 each). Current monthly fees are £30.00 paid by standing order, or 3 months in advance by cash payment. Two months notice in writing is required to cease membership. We do not operate annual contracts. Fees are reviewed each May.
Personal Programmes
Members have a Personalised Programme written specifically for them, as part of the induction process, to fulfil their aims and objectives. As these will probably change over time, Personal Programmes may be reviewed regularly by booking an appointment with a member of staff.
Specific programmes may be prepared for skiing, summer activity holidays, tummy tightening for the beach or to rehabilitate following injury.